Peter V Brett Bibliography Format
Arashura
/
Keep in touch …
Ever since the first Painted Man ARCs were released in the UK and Australia, I've been getting e-mail from readers. Most of it has been amazingly kind and encouraging, some readers have questions, and others are looking to pick a fight.
I love them all. Even the fight pickers. Sometimes those most of all. I love a good debate.
Thus far I've made a point of responding to every reader e-mail individually with a unique reply. I'm not a fan of form letters. I love talking to readers, and have often had long back-and-forth correspondence with people and developed very real friendships.
The problem is that I have begun receiving mail far faster than I can answer it. At first reader could expect a reply from me within a week or less. Then it became a fortnight. A month. Six weeks. Months.
I'm starting to feel really guilty about not replying like I used to, but I have a lot of professional writing commitments, including my next book, which I expect most of you would like delivered to my publishers in relative short order. I'd sure like that, too.
I don't want people to stop writing to me. Not even a little bit. I still read each and every letter, usually within minutes of receipt, and they are all precious to me. I just want people to understand before they contact me that it might be a while, if ever, before I can reply. It doesn't mean I don't love you. Sometimes, if I am really busy, my assistant will respond, usually after discussion with me.
If you're writing with a question, and don't want to wait, there are lots of resources to get the answers in the meantime. Have you checked my News page? Most of my publishing updates are there, along with excerpts, interviews, discussion forums, upcoming appearances, etc.
I've done a LOT of interviews. Like 50, each with an average of a dozen questions. Odds are, your question is part of this multitude. For your convenience, I have compiled all my interviews here.
I've also been maintaining a pretty active blog called Peephole in My Skull for several years, starting long before I was published and including entries on my initial writing and submission/sale process. I also talk at length about the creative process, show off awesome fan art, and run contests where I give away free shit. The blog entries are categorized, and there is a search engine if you're looking for something specific. Check out the Peephole here.
FAQ
Here are the answers to some frequently asked questions. I will try and update this list when I can:
1) How many books will there be in the series?
The Demon Cycle is NOT a trilogy. Never was and never will be, no matter what you hear elsewhere. Some people, including the marketers at my own publishers, just can't seem to mention a fantasy series without the word trilogy. The series will run for about 5 books, with the 5th book giving closure to the current tale. I say "about" 5 books because there will be occasional novellas set in the same world, like The Great Bazaar, Brayan's Gold, and Messenger's Legacy.
After the main series ends, there will be a standalone Demon Cycle book set in Tibbet's Brook, and then likely a new series based in the same world with some shared characters.
2) When will the next book be out?
Book 5, The Core, is in progress, but is mostly unwritten. It will likely not be available until 2017 at the earliest. I will post occasional updates to my blog when there is more information.
3) What order should the books be read in?
The Warded/Painted Man
Brayan's Gold
The Great Bazaar
The Desert Spear
The Daylight War
Messenger's Legacy
The Skull Throne
The Core (forthcoming)
4)Is there any movie/TV news?
Not at this time. Things in Hollywood take time, and nothing is guaranteed. Believe me, if movie/TV plans begin moving forward and there is news to share, I will shout it from the mountaintops.
5) How can I get a signed book?
There are some online sellers that specialize in signed books, but these are often pricy and hard to find. The easiest way to get a signed book is to request a signed bookplate. These are custom-designed adhesive plates that I will sign and personalize, which you can insert into your books. Details on how to get plates for your own books here.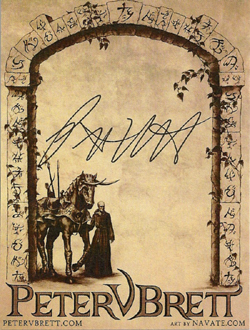 Email
You can reach me by email at
peat@petervbrett.com
Snail Mail
Peter V. Brett
P.O. Box 1022
New York, NY 10276
Twitter
Follow me on twitter: @PVBrett
Facebook
My official Facebook page
Join my Facebook fan club!


Pinterest
Follow my official Pinterest page
New York Times bestselling author Peter V. Brett brings one of the most imaginative fantasy sagas of the twenty-first century to an epic close.

For time out of mind, bloodthirsty demons have stalked the night, culling the human race to scattered remnants dependent on half-forgotten magics to protect them. Then two heroes arose—men as close as brothers, yet divided by bitter betrayal. Arlen Bales became known as the Warded Man, tattooed head to toe with powerful magic symbols that enable him to fight demons in hand-to-hand combat—and emerge victorious. Jardir, armed with magically warded weapons, called himself the Deliverer, a figure prophesied to unite humanity and lead them to triumph in Sharak Ka—the final war against demonkind. 

But in their efforts to bring the war to the demons, Arlen and Jardir have set something in motion that may prove the end of everything they hold dear—a swarm. Now the war is at hand, and humanity cannot hope to win it unless Arlen and Jardir, with the help of Arlen's wife, Renna, can bend a captured demon prince to their will and force the devious creature to lead them to the Core, where the Mother of Demons breeds an inexhaustible army.

Trusting their closest confidantes, Leesha, Inevera, Ragen, and Elissa, to rally the fractious people of the Free Cities and lead them against the swarm, Arlen, Renna, and Jardir set out on a desperate quest into the darkest depths of evil—from which none of them expects to return alive.

Look for Peter V. Brett's complete Demon Cycle:
THE WARDED MAN | THE DESERT SPEAR | THE DAYLIGHT WAR | THE SKULL THRONE | THE CORE

Praise for The Core

"Thoroughly addicting . . . a thrilling adventure that is, without question, [Brett's] greatest achievement yet."—Bookreporter
 
"Rewarding . . . Congratulations to Peter Brett on completing a fantastic series."—SFFWorld